Amantii Electric Fireplaces
At Crackle Fireplaces, we offer a variety of electric fireplace inserts from the award-winning, time tested brand Amantii. With features like LED ember lights in both wall and flush mounts, log-style options, backlighting, gorgeous black or white surround glass, and even three-sided electric fireplaces, these modern fireplace products provide more than just art on a wall. Models from the Tru-View series such as the Tru-View XL create a contemporary ambiance in your home or office like no other electric fireplace. Imagine the cozy feeling of a fireplace without the hassle of wood, fumes, soot, or constant attention. Electric fireplaces change the entire ambiance of a room with the ease of remote control operation, without leaving the comfort of your desk or easy chair.
Fireplace Inserts for Interior Design
Amantii fireplace inserts use electric flames resembling real fire, an interior decor option that heats your space efficiently while offering stylish and modern backlighting. Easily installed in nearly any setting, indoors or outdoors, Amantii products are versatile, innovative, and available in a wide variety of sizes to fit any size wall. There is something about a fireplace that results in a feeling of serenity, calm, warmth, and inspiration. In addition to providing heat, these electric fireplace inserts provide a safe alternative that will transform a house into a home – a place where people want to gather. Adding this feature to your office or living area would be the perfect finishing touch for your interior spaces.
Tru-View Series
Amantii's Tru-View series has a unique design that allows you to see through from three sides of a room or patio, increasing the viewing area and adding dramatic visual impact like no other fireplace insert. With this three-sided electric fireplace, called an Amantii Panorama, flames are viewable from all angles, producing a beautiful fire experience that everyone in a setting will enjoy. They are rated for indoor and outdoor use, making them easy to install virtually anywhere. The Amantii Tru-View Slim model is a great option when wall depth is at a premium, only 4″ deep, and available in five fireplace width options starting at 30″ wide up to Amantii Tru-View 72″.
The Amantii Tru-View 72 option works for applications that are up to 14″ deep and is perfect for outdoor patios, restaurants, and large living areas where the viewing area continues on all three sides of the fireplace. The Amantii Tru-View XL electric fireplace for larger width spaces has received countless amazing customer reviews for its fantastic ability to accommodate all spaces with an impressive variety of size options.
Outdoor Fireplaces
Amantii outdoor fireplaces are the perfect option for outdoor ambiance without the worry of gas or propane lines or the concern over real flames. Imagine the simplicity of using a remote control for instant flame and heat while enjoying the outdoors, breathing fresh air with friends and family – and no smoke in your face. Unlike wood firepits, these fireplace inserts have aesthetic beauty that creates a tantalizing ambiance, with media options such as glass nuggets, diamond glass media, 11 piece log sets, and up to 13 different flame colors.
While sitting around a Tru-View series Amantii fireplace, notice how your friends and family become engaged with the gentle flames, different flame colors, and rich finishes that complement your outdoor living space. Everyone will favor your backyard as the most peaceful and convivial space to gather. Fireplace features include ambient backlighting, remote control, heaters, and fans for optional heat or aesthetic ambiance with glass nuggets, truly a centerpiece of the outdoor lifestyle that creates an interactive experience.
The Symmetry by Amantii
The Symmetry series by Amantii offers a clean, contemporary look with no unsightly heater vents and comes with multi-colored fire and ice flames. This slim form allows for versatility with a semi-flush mount wall application for your space. Plus, the standardized sizing provides for easy installation in any home staging or remodel.
Fireplace Inserts
Amantii fireplace inserts are popular products for a myriad of reasons. They fit any interior style, coordinating with contemporary and traditional styles alike. Crackle Fireplaces is a leading distributor of Amantii fireplaces, providing superior customer service and a wide selection for every application imaginable. Fireplaces are guaranteed to transform any space dramatically. Art on a wall will not give the same feeling as a fire that will radiate heat, shimmering and shining with flickering flames and colorful backlighting. Sure to be a focal point in any setting, the talking point of all your gatherings, the inspiration of creativity – purchasing an Amantii fireplace insert will change the vibe and create an organic sense of connection wherever installed.
Adding an electric fireplace insert can bring the relaxing heat and life of a fire harmlessly into your home. An Amantii fireplace feature is both elegant and well built with exceptional quality, stunning in any room, with concealed heater vents providing a modern, streamlined appearance. Enjoy brilliant flames from your fireplace even while the heat is off for color and natural glow during every season.
Why Amantii?
People have been singing, talking, creating, and being in love around fireplaces for millennia. Mesmerized by flames and embers floating into the night sky, is always comforting. Crackle Fireplaces and Amantii have captured the allure through products that allow you to have that experience anytime, anywhere. Interior decorators, homeowners, and builders acknowledge the importance of fireplace inserts as a critical focal point in any setting where consumers wish to feel balanced and calm
Sitting around a fireplace and enjoying friends and family over flame-inspired conversation is not an impossible dream with Amantii's adaptable, time tested electric fireplace products. Amantii has thought of every application to bring your fireplace vision to life.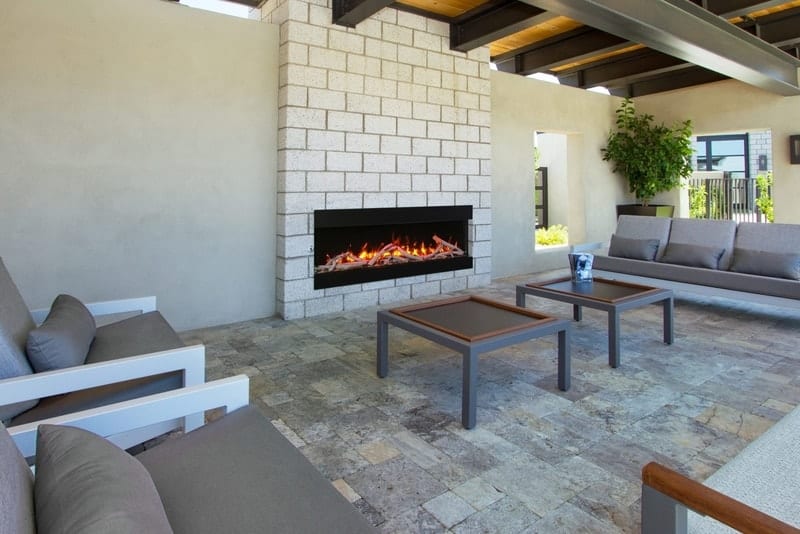 At Crackle Fireplaces, we believe in the human connection of business and service. We understand that shopping for electric fireplace inserts isn't always easy. Since we are the fireplace insert experts, you don't have to be. We also know that installation questions sometimes come first. That's why we have a team at the ready operating here in the United States. We welcome questions regarding electric fireplace features and benefits, measurements, sizing, pricing, and model options. And we have spectacular customer reviews proving our process works. We are real people that care about your buying experience.
Our promise to you: unsurpassed customer service, an easy and intuitive online shopping experience, a full range of hand-selected and high-end products that you can be proud of, and, most importantly, peace of mind purchasing from a world-class American business.
Why Choose Crackle Fireplaces?
We know you have options when it comes to shopping for your electric fireplace insert. That's why we take our role so seriously and always strive to exceed your expectations. We have been delivering satisfaction to customers by changing indoor and outdoor living experiences with proven results for years. We will custom create a fire feature just for you, taking all of your input into account.
Take the worry out of the search for the perfect fireplace with Crackle Fireplaces. We custom create your fire feature, saving you countless hours and exceeding your expectations. Additionally, we offer free shipping, a straightforward return process, and a guarantee of your satisfaction – with exemplary customer service.