Modern Flames Electric Fireplaces
At Crackle Fireplaces, we offer many different options from Modern Flames electric fireplaces, one of the leading electric fireplace companies. They create innovative and modern electric hearth products, releasing new products each year. The company is incredibly progressive and gaining recognition across North America in such features as the Hospitality Design Expo, International Contemporary Furniture Fair, and much more! When you purchase a Modern Flames electric fireplace, you are promised an excellent and contemporary device for your living space. High-quality products deserving of high praise, these electric fireplaces display a realistic flame and are positively sophisticated. Your home or office will be taken to a new level. With an array of choices, finding your dream fireplace will be easy!
Get An Electric Fireplace Today
Switching to a Modern Flames electric fireplace has never been so easy or rewarding. Ditch the hassle of a traditional fireplace – buying wood, starting the fire, keeping the fire going, cleaning up, and more. Electric fireplaces are elegant and start at the click of a button. The gift that keeps on giving, electric fireplaces from Modern Flames are low maintenance, efficient, and safe for children and pets. Whether it be for a family video night after a long week or for a holiday dinner party, the ambiance of an electric fireplace is unmatched. Even the simplest T.V. space can be transformed into a luxurious one with the addition of an electric fireplace. These hearth products can be programmed to emit different levels of heat or no heat at all, so you can still access the calming feel of flames in the summer months!
Let's Build The Fireplace Of Your Dreams
There is a lot that goes into designing the dream Modern Flames electric fireplace, many different variables making it stressful and time-consuming. At Crackle Fireplaces, we have unmatched knowledge and passion for our products, so we will do all of the work for you. We have learned how to match these products with clients so we can do what most others won't – design your dream fireplace for you, one that fits your vision!
Clients describe their perfect electric fireplace, their space, and the feel they want to bring to their home, and we design a fireplace that fits that exact picture and feel for the desired room. We take into consideration the design, views, accessibility, size, heat output, ease of installation, and more, so you don't have to! Each product is unique and designed with the customer in mind, creating a one-of-a-kind experience for your luxurious living room or warm office. Save time and leave the details to the experts!
Landscape FullView 2 Series
The Modern Flames Landscape FullView 2 series is the perfect substitute for a linear gas fireplace. This one-of-a-kind frameless design allows for edge to edge flame views as well as unlimited surround capabilities. This is the sleekest electric fireplace design there is, creating a modern but warm feel anywhere it is installed. Whether it be for a modern office or a bold centerpiece for a backyard, this electric heating source is sure to impress.
The Modern Flames Landscape FullView 2 is customizable with five different base options to complement a particular space. Choose driftwood for a more natural, earthy feel or crystals for the more contemporary space. This fully finished, clean-faced electric fireplace has the option of being installed directly under a TV for the perfect finishing touch to your home. Remote control access makes it easy to use and customize for year-round heat and flame control. This is the electric fireplace you cannot pass up!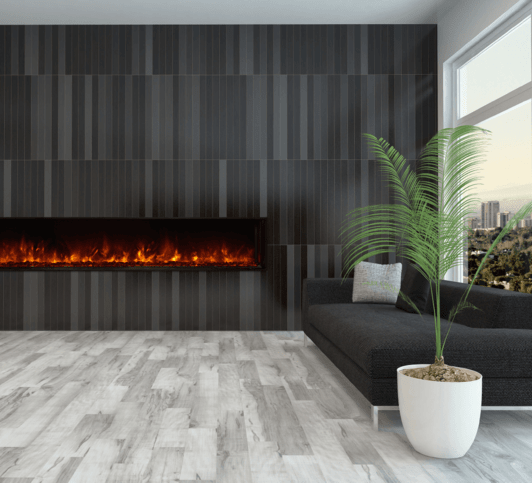 CLX2 Series
The Modern Flames Ambiance CLX2 series is the dreamiest combination of versatility and design. It is the perfect piece of art to bring people together and keep them warm all at once! Appropriate for any residential or commercial space to turn it from ordinary to extraordinary, it can be mounted directly onto the wall or easily recessed into any 2×4 wall niche for a flawless, custom finished look. The ease of installation is a game-changer – anyone can do it!
The Modern Flames CLX2 series comes in so many different sizes – from 45 inches to 144 inches – and it's equipped with low-energy realistic flame technology that has the option of changing colors to best fit the feel and design of your home. The flame can also be used with different heating levels or no heat at all for year-round use! Control your Modern Flames product with the touch screen thermostat or the sleek remote control right from your sitting area, perfect for rooms of all sizes.
Benefits Of A Modern Flames Fireplace
Modern Flames is an incredibly reputable and well-established company, producing phenomenal new products each year. The company introduced the contemporary linear electric fireplace, a popular feature in many residential and commercial buildings across the US. The luxurious look of linear electric fireplaces has since become a very popular application due to the extremely realistic flame appearance. The Modern Flames electric fireplace comes with an unparalleled aesthetic paired with the ease of installation and low overall cost compared to a gas or wood fireplace. From the Modern Flames CLX2 to the impressive Modern Flames Landscape FullView, these electric hearth products will be the centerpiece of any room.
An added and important benefit of an electric fireplace is that it's safe for you and the environment! A gas or wood-burning fireplace emits pollutants that harm the environment. Not only do these emissions have the potential to harm the environment but also those living in the home. Furthermore, traditional fireplaces lack efficiency since much of the heat goes up the chimney rather than into the desired room. A Modern Flames electric fireplace has an optional 2 stage heater that is included for supplemental heat, warming up to 450 square feet, effectively heating your home while never producing pollutants that could be harmful to your home or the Earth. Choosing an electric fireplace is a healthier and more efficient alternative.
When shopping with a company that is knowledgeable and passionate about their products, customer service just comes naturally. At Crackle Fireplaces, we believe in the human connection between business and service. Purchasing a Modern Flames electric fireplace is no small decision, and we want to make that decision smooth and enjoyable. We structure our work and interactions around the company's core values: integrity, reliability, efficiency, and positivity. These values are the forces that drive our company.
Peace of Mind With Every Purchase
At Crackle Fireplaces, we hope to design or help you design the perfect fire feature to complement your living space! Someone from our team will talk to you about any questions or concerns you have, so contact us at any time! Our priority is you as well as your comfort, and we want to be sure you know that! Whether it be a question or an order, we will always treat your inquiry with a sense of urgency. We love our line of work, and we want you to love the work we do, too! This purchase should be a happy and exciting time for you, so we will treat it as such. We hope to make this the most positive buying experience you have, leaving you happy to come back, time and time again! Our promise to you is our excellent customer service, an easy to navigate online shopping experience, beautifully designed products that you can't wait to show off, and, most importantly, peace of mind purchasing from a world-class American business.
Why Choose Crackle Fireplaces?
Our goal is to design the perfect and dreamiest Modern Flames electric fireplace to beautify and warm any space, and we know that's your goal, too! With a like-minded goal, we know we're the perfect fit. We are real people with a hard work ethic who care about your buying experience. Your satisfaction is our motivation. We work to satisfy customers and change indoor and outdoor living spaces with positive results. There are other options when buying an electric fireplace, but that is why our company consistently works to be the best we can be. Our knowledge combined with our customer service are characteristics that set our company above the rest.
We leave our customers feeling satisfied. Something wrong? Get it back to us, and we will make it right. Satisfaction will always be guaranteed. Shipping can be a hassle and normally quite expensive, but when you order from Crackle Fireplaces, shipping to all 48 contiguous US states is free! We strive to show you our passion through our hard work, so our work is always top-notch. We learn and grow by reading our reviews, so we're constantly getting better and gaining experience through client feedback! Choosing Crackle Fireplaces allows you to get the most beautifully designed electric fireplace for your favorite spot! Welcome to our company, and welcome to our family!