Ethanol Fireplaces
Do you want to skip the hassle of a traditional fireplace but still to have a real flame in your fireplace feature? A bioethanol fireplace, also known as an ethanol fuel fireplace, is the perfect alternative for you. An ethanol fuel fireplace is a ventless type of fireplace that runs on clean-burning ethanol fuel, without the trouble and high maintenance that comes with a traditional fireplace. An ethanol fuel fireplace is low-maintenance, low-cost, and easy to start! Since they are ventless, they are also easy to install, whether they are free-standing or wall-mounted! Crackle Fireplaces has a collection of high-end ethanol fireplace models to choose from.
Let's Create The Ethanol Fireplace Of Your Dreams
Bringing the heat of flames to your living space without the toxic emissions or tedious tasks of starting a traditional fire is possible and easy now! An ethanol fireplace insert has the benefit of real flames and brings a serene and transcendent feel to any room. Sitting by the fire on a cold night with friends is so easy and enjoyable with an ethanol fuel fire table – what's not to love?
There are so many different products when it comes to ethanol fireplace products, but we at Crackle Fireplaces are here to help you design your dream ethanol fireplace or fire table while you relax. There are so many different variables to be considered when purchasing an ethanol fireplace feature, but we have gained the knowledge and industry experience to do just that. We are fire specialists! We take into consideration the desired size, design, heat output, safety features, and so much more! We know purchasing on your own would be overwhelming, tedious, and time-consuming, so we want to make it easy and offer our design services to you.
Pros and Cons Of An Ethanol Fireplace
The greatest benefit of an ethanol fireplace is its design simplicity – a real bio flame with no toxic emissions or smoke. A traditional fireplace emits toxins that can affect air quality in the environment and the home, causing illnesses from cancer to birth defects. Health and safety are incredibly important, so choosing a biofuel fire feature is another way to take care of the Earth and yourself. While this is a big pro for bioethanol fireplaces, it is far from the only one. Bioethanol fireplaces are also easy to install anywhere, mounted, or free standing. They do not require a chimney flue or utility connection so no construction or chimney flue cleaning is necessary. This flexibility means a safe and real bio flame is possible in any space!
The con to an ethanol burning fireplace is the same for any gas fireplace – safety for toddlers and furry friends. With a true flame comes the need for fire safety. However, we offer many protective barrier products and safety features to keep curious fingers and paws out of the flames. Ethanol fireplaces do have more maintenance than an electric fireplace as you do have to refill fuel when levels are low. However, this is easy and quickly done when the fire is out. When it comes to an ethanol fireplace, the pros definitely outweigh the cons!
Wall-Mounted
There is something about wall mounted fireplaces that exudes luxury. An ethanol fuel-burning fireplace can easily be mounted to any wall as no vents or utility lines are unnecessary. We offer a wide variety of bioethanol fireplace models to choose from on our site, one for every type of home décor style. From modern to rustic styles, this heating solution will be sure to take your home or office décor to the next level!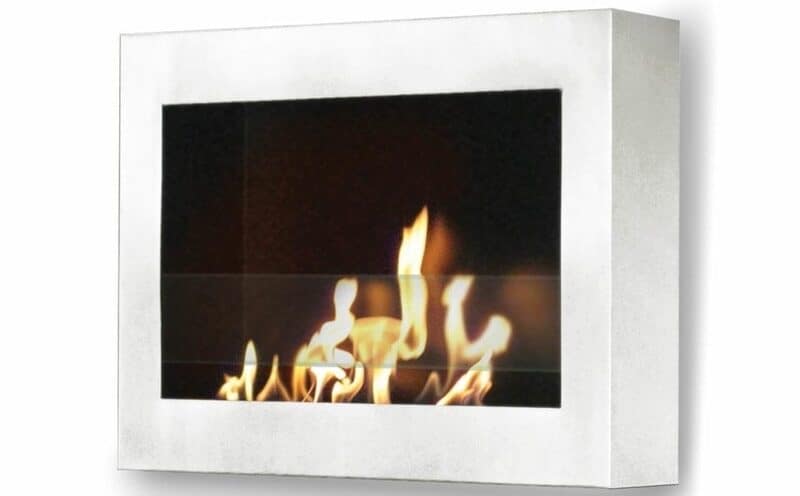 Build-In
A built-in ethanol fireplace has the ability to resemble a traditional wood-burning fireplace but is much easier to assemble and maintain. They warm the room and bring serenity and comfort to the home at once, and they are easy to customize and install in any space. Your home will be transformed in no time. There are plenty of different sizes and colors to match any aesthetic of the home or office. Bio flames simulate a wood-burning fire, and they come with the option to add decorative rocks or logs so no one will know the difference!
Freestanding
Freestanding ethanol fireplaces are incredibly modern and sleek. From the different shapes and sizes of fireplace inserts to the different models of fire tables and centerpieces, these ethanol burning fireplaces bring the flames and look amazing while doing it! Finding the perfect location for your model is easy because it requires no vents, chimneys, gas lines, or gels. It can be the focal point of a backyard, living room, office, or restaurant patio. It not only looks amazing, but it provides warmth and flames for everyone to gather around and have a great time.
At Crackle Fireplaces, our customer service is unmatched because it is our top priority. Our business and service would be nothing without our human connections with our clients. Over the years, we have gained the knowledge, expertise, and passion to be able to provide our customers with the best possible service we can. We know purchasing an ethanol fireplace insert is no small decision, and that's why we work hard to help you create your vision! We center our work around our company's core values: integrity, reliability, efficiency, and positivity. These values are the forces that drive our company.
Our integrity comes from our unparalleled products. We carry high-end products, and we will always match your home décor style with the best product for your space. You can rely on us to address any needs or concerns with your purchase. We are the fireplace pros! We know there are plenty of questions with a purchase like this, so we have our team members ready to answer your queries. Whether it be a question or an order, we will always treat your inquiry with a sense of urgency. We love what we do, and we want you to love what we do, too! Our clients will always be treated with kindness, in-store, and online. We know buying can be stressful and scary, but our goal is to make sure it is fun and exciting for each of our clients! We promise you our best customer service, an easy to navigate online shopping experience, thoughtful communication, high-end products, and most importantly, a business that you are proud to buy from!
Why Choose Crackle Fireplaces?
There are other companies that sell the products that we sell but none sell them the way we sell them. We know you have other options when purchasing, but we make sure our selection and customer support are the best, so you don't want to buy from anywhere else. Our priority is leaving our customers satisfied. We are a proactive company that continuously strives to be better. We have the knowledge and passion to make your bio flame fireplace vision a reality.
Our customers never leave unsatisfied. If something is wrong, we will always make it right. We are passionate about our work, and we want to show you that passion and create the perfect heating solution for your home. Your satisfaction will always be guaranteed. We want to give back to you for giving us the gift of your trust when choosing us, so we will cover the cost of shipping all over the country, to all 48 contiguous United States. Shipping can be costly and stressful, so we've got it covered! Our biggest advances come from our reviews. We strive every day to be better, and our customer reviews are a big part of that. We would love to hear from you and hope you will stay in touch! We can't wait to get you started on this journey of warmth and happiness!