What is the best dimplex heater?
It's important to remember that each of the Dimplex options is reliable and dependable for your applications. It really comes down to stylistic preference more than functionality. It will also depend on the nature of your living area to determine which Dimplex Heater is the best option. Rest assured, each unit has been crafted with careful consideration utilizing a sturdy design. Here you will discover some of the different models available, and you're not alone in the selection process. At Crackle Fireplaces, we are always dedicated to giving you the highest-quality consultation services so you can attain a better understanding of any given Heater!
Ignite XL Models
If you're looking for visually impressive and stunning results then you should definitely consider one of the Ignite XL Models. Here you will find exclusive patented flame technology that brings any room to new heights of brilliancy! This is the perfect product for high-rise or home installations and looks incredible. It is sophisticated and modern with a panoramic view for your optimal viewing pleasure. You will have to decide on the size based on your individual home, and we will help you make sure the specifications are accurate and reliable. These are highly energy-efficient, so if saving power is necessary then they are the way to go! There are some beautiful color themes to choose from for any given day to add something different to the room. It's also convenient with touch controls and easy installation. This is a great model if you're looking for a viable alternative to gas!
Featherson or FieldStone Mantel
This Dimplex heater is a fantastic option as well because it gives a very natural appeal with a stone wall for an incredibly rustic appeal! As we mentioned earlier, style is a very important factor when deciding which Dimplex heater is right for you, and we are experts at making sure you get the right product. You will never have to manually set it again because of the functional remote control that gives you absolute power over the unit. The Fieldstone option is also magnificent and gives a more contrasting style to any space with defined stones and excellent heating power!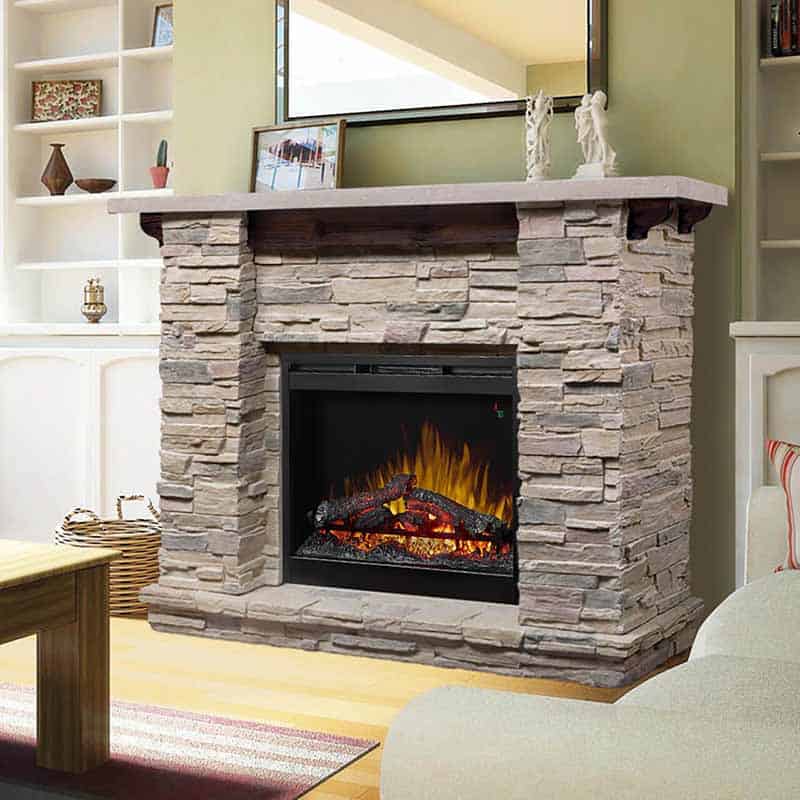 The modern Royce Mantel
The Royce Mantel is a great selection if you're looking for a more modern flair to accent any space. This model has flames and heat that operate independently so you can use this any time of the year comfortably. Another great benefit of considering this selection is that there is no actual dangerous heat emission to be concerned about regarding pets and children. It features some impressive LED technology that will keep you engaged year-round with new stylish options. The pulsating ember technology is hypnotic and beautiful. It also heats incredibly well with up to 5118 BTUs.
Vibrant Jean Mantel
The Jean Mantel takes things up a notch by giving you a more elegant and bright appeal that really makes a fancy statement in any space. The crown molding design here caters to a specific taste and if you're about luxury then it will tie the room together nicely while keeping you very warm. If you're looking for something that stands out and draws the eye then the Jean Mantel is the right heater for the job. They have been constructed very well and this particular model can also display multiple color themes to keep things fresh and interesting year-round!
The Subtle Morgan option
This Morgan design is similar to the Jean Mantel, but is more subtle with a darker appeal. It will still draw the eye with a modern vibe, but it will blend into the room better if you have darker shades to match. This is again according to personal preference and also depends on the current design of your prospective space. We can help you decide between options you're struggling with and will illuminate the possibilities while giving you a sense of warmth and comfort during the selection process. Our customer service is just as inviting and effective as the products we offer!
Contact us today to get an impressive fire pit/table
All in all, there are many selections we have when it comes to Elementi Heaters, and you will find something marvelous here. We have many other fire pits and tables to browse, so feel free to check out our website and make an informed decision. One of the perks of ordering from us is you will get free shipping. We also offer a comprehensive return process if you're not happy with the purchase or if anything is damaged. You can count on us at Crackle Fireplaces to over-deliver with quality Dimplex space heaters that implement the latest heating technology and styles!