What goes in a fire table?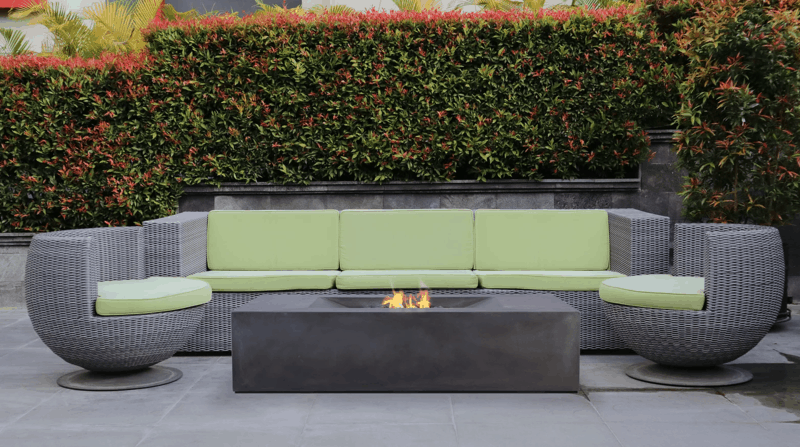 Most fire tables will come with the standard lava rocks which are completely heat resistant and pose no threat to the surrounding area. They are a darker color and don't have a subtle and almost rustic quality that comes with the classic experience. Lava rocks are durable and reliable for long-term application and can be easily exchanged for other options when their life is expired. These are great for new owners who want something simple, manageable, efficient, and not too flashy.
Fire Glass Rocks for added color
Sometimes you can choose to add a more modern medium to any given fire pit and this is perfectly okay to switch out without any problems. Some people even choose to mix these in with the lava rocks for a unique look and that's fine too. However, if you want continuity and the most vibrant result then stick with a solid color such as dark blue or even yellow for an otherworldly glow. Fire glass is very popular and you can choose between different colors that complement each other nicely. This is a way to get creative with your fire table and make it individualized and special.
Blending different rocks for unique effects
You can combine various colors of fire rocks together to create interesting effects and these might include a distinct design. You can bring it to life when utilizing a lighter color for the design and a darker one for the background to make it pop. There are many stylistic methods you can implement here when it comes to shaping your fire table medium. It's possible to achieve some interesting results here and an example would be accomplishing the yin yang sign with varying colors. Black and white come to mind here, but you can use any that is fitting for the room to generate a particular ambiance. You truly have the power to bring the room to life with incredible color combinations and fun ideas!
Glass marbles or beads of different colors
There are some sleek-looking glass marbles available on the market which can be easily integrated into your fire table and they are completely round. These are definitely heat resistant and have a mild reflective quality. You can get them in different colors and there are even fancier options available with multi-color effects. Beads are flatter and have a different aesthetic appeal that might be suitable for certain tastes. We all have a vision in mind when purchasing a fire table, and what goes into it is important to bring it to fruition with satisfactory results. At Crackle Fireplaces, you can consult with us about the varying styling possibilities for your fire table glass marbles or beads.
Stones with reflective qualities
There are some special stones you can buy that will make your fire pit look like an enchanted cauldron from a Hollywood movie. They have enhanced reflective properties that give off a radiance that is beautiful and captivating. These come in colors like metallic silver, gold, blue, and many more options that are luminous and ready to revitalize your fire pit. They're a great product if you want to step things up a bit and are tired of the sometimes dull nature of plain lava rocks. Fashion has shown us over the years that reflective and shiny things have great appeal and this is a way to make a fancy statement with your fire pit!
Creating a unique design with varying colors
One interesting design that comes to mind as a suggestion would be a psychedelic spiral that draws the eye to the center of the table. You could also craft a sun design with a blue sky or even depict a certain logo. Anything is possible with beads, and one of the benefits of a fire table is you can see your art come to life when it's fired on. The reflections make your fire glass shimmer and emit a radiance that is unbelievable. You can dazzle guests with an impressive display of luxury and beauty that captures the imagination and keeps you content.
Consider purchasing one of our fire tables or pits today!
At Crackle Fireplaces we have the highest quality products with versatility in application to suit any backyard. We are passionate about helping you find the right fire table or fire pit for your indoor or outdoor needs. There are many possibilities for what you can put in your fire table and we are here as an informative resource to help maximize your purchase. There is a wide selection to weigh, and we encourage you to stop by and pick up something fantastic with one of our sales. There are many creative possibilities awaiting you when setting up any given medium. You have the freedom to accomplish any fire table ambition and we are your go-to industry experts!