The Best Fireplaces For Apartments
If you're renting your home, or you live in an apartment, penthouse, modern loft, or condo, you're probably limited as to what you can and cannot do when it comes to fireplaces. Most owners of rental homes and new construction don't allow any exterior changes to the home, such as would be required for fireplace inserts and gas fireplaces. Unfortunately, this rules out a wood burning fireplace and vented gas fireplaces. But don't worry, you have several great options.
The Types Of Fireplaces For Apartments …
1. Bioethanol Fireplaces
Bio-ethanol fireplaces come not only environmentally friendly, but they also require very little installation, do not require venting or electricity, and in many cases can be completely portable. This is especially useful if you plan on moving soon; you can take it with you!
Refueling is simply a case of refilling the self-contained basins with liquid Ethanol, which is available in bulk quantities to make it easy on the wallet. Ethanol fireplaces have realistic, lively flames (like real flame) that are even known to crackle for that traditional cozy wood-fire ambiance while utilizing limited floor space.
Drawbacks of Bio-ethanol Fireplaces:
Safety – Bio-ethanol fireplaces are vent-free, which means they have open flames. This can be problematic for homes with children and pets for obvious reasons, especially if they're in reach of the little ones. We also recommend that you do not leave Ethanol fires unattended, so they're not ideal if you want to heat single family homes while you're gone.
2. Electric Fireplaces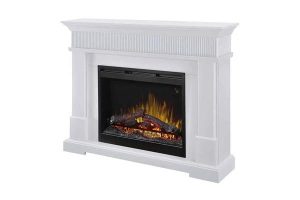 Electric fireplaces are another fantastic option if you're renting or living in new construction. They are easy to install (generally either floor-standing or wall mount with hardware included), space saving, ae ventless fireplaces and can usually either be hardwired or simply plugged into a 110V outlet.
In most cases, electric fireplaces also serve as a heat source with variable heat settings, which allows you to enjoy the fireplace ambiance in your living room with or without heat – even on warm summer nights!
They also generally have several different lighting and color options, which allows you to match the mood of your space on the fly. Call our customer service is you have any questions.
Drawbacks of Electric Fireplaces:
Limited heat output – If you're living in a colder state, or you just enjoy staying extra toasty at night, electric fireplaces might not be for you – they usually max out at about 5,000BTU which is only a fraction of the kind of heat that a gas or ethanol fireplace or gas fireplaces are capable of throwing out.
No real flames – Those who are looking for that traditional wood-fire ambiance may not be satisfied with an electric fireplace. Although technology is constantly moving forward and electric fireplace flames are becoming more and more realistic, sometimes they just don't quite cut it.
3. Water Vapor Fireplaces
Water Vapor fireplaces create an unbelievably realistic illusion of fire from mist and halogen lighting, which is completely safe to the touch. This kind of fireplace is outstanding for homes with children or pets when fire is a safety hazard.
They are a great conversation piece and work really well when you're looking to accent a room with the ambiance and feel of a fire, but you don't necessarily want the heat output. Water Vapor units are very easy to install and maintain, and extremely cheap to refuel and run long-term (it's just water and electricity)! Feel free to call our customer service if you have questions.
Drawbacks of Water Vapor Fireplaces:
The only real drawback that they have is that they don't produce real flames – you're not going to get that authentic crackle sound, and it's not going to keep you warm on those winter nights. Think of it as more of an aesthetic piece for your interior design ambitions!
My conclusion: Some of my favorite fireplaces fall under the "Renter Friendly" category, including a freestanding vent-free Ethanol fireplace that I have in my home. I recommend you go for something Ethanol, Electric or Water-Vapor fueled that doesn't require intensive installation – that way you can take it with you when you move and keep the landlord happy (if that's even possible).