Does the propane tank sit inside the Elementi fire pit itself or somewhere else?
With an Elementi fire pit, you will find that the propane tank sits on the side and it can be a real problem for some people. Instead of enjoying the fire pit itself, some are drawn only to the propane tank and this can inhibit you from gaining the fullness of your pit. There are some viable solutions to consider for your propane tank that will benefit you in the long term!
Convenient tank covers for style
Even though the propane tank is external, you might want to consider using a tank cover that matches your overall fire pit. This is critical because if you get a cover that clashes then it will be a regretful situation. You need to make sure there is continuity for the tank cover to flow with your fire pit. This gives you a chance to completely conceal the propane tank as if it doesn't exist. There is something wrong with constantly being reminded about the fuel source when enjoying your fire pit. It's simply a distraction that can be circumvented with the right investment.
Place your propane tank underground
Another option to consider that many people already have is to install your propane tank underground. For those who already have this installed it will be a breeze to set up initially. However, if you need to install the tank then it might take more time and money but the payoff is worth it. Here you won't have to worry about purchasing an additional accessory to cover up the propane tank. Instead, it will be completely concealed underground for your convenience. Most of the time this is a much larger propane tank that allows you to connect to multiple sources simultaneously. It is the most classy way to conceal your talk.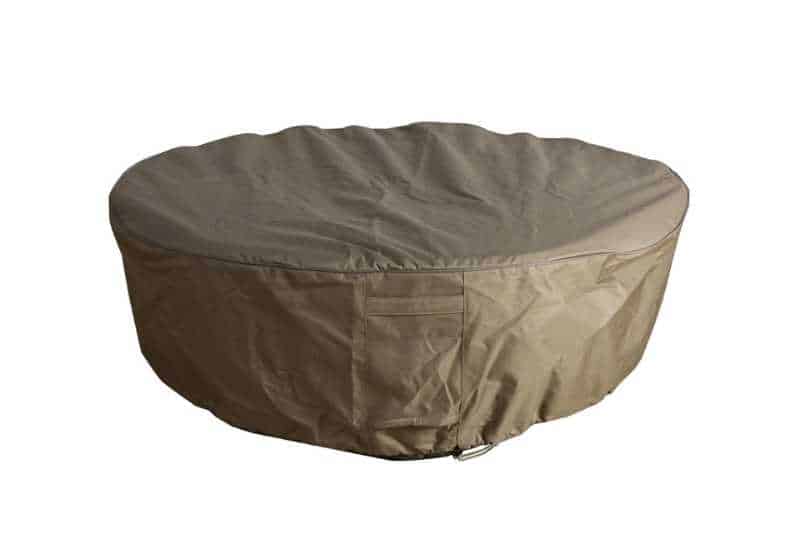 Some choose natural gas over propane
Personal preference will come into play here and you can choose for yourself if natural gas or propane is your desired method. Either way, you will be effectively fueling your Elementi fire pit. However, if you choose propane then it will come with it a few challenges. The most blatant challenge of propane is where to put the tank. Thankfully, you won't have to search for when deliberating between a propane tank cover. We have many of them in stock for you to browse and place emphasis on getting you the right match. Things will be more coherent when shopping with us because we know which ones look the best with any given model.
The tank can blend better with a cover
Stylistically speaking, the tank will look much better when covered and it will give the overall setup more continuity. It will appeal to your guests more and instead of talking about the eyesore propane tank, you can effectively discuss the centerpiece. All of these Elementi fire pits are beautiful and the last thing you want is for a propane tank to detract from their presence. They are a work of art and deserve to be displayed with the right consideration and attention to detail. After all, this is an investment that will serve you well for years to come so it's important to consider these elements to get the optimal visual experience.
The cover gives you extra table space
You can use the propane tank cover to effectively give you some extra table space for drinks or anything else. This is perfect because it's easy to run out of room when you have guests over to enjoy the new fire pit. The colors will be coordinated effectively and it will be a seamless addition to the backyard. Simply place your drinks or food here and it will look like a more natural setup. The propane tank on an Elementi fire pit is located on the outside, but you can manage this reality much easier with the implementation of a propane cover. This is also a chance to express your individual style through a more professional look. There are also different-sized tanks to consider that might be more subtle if you go for a smaller option.
Find the perfect fire pit or fireplace with us today!
At Crackle Fireplaces we are dedicated to giving you some of the most beautifully crafted fire pits for your outdoor needs. Elementi is a fantastic brand to consider and we have many options available for you to deliberate between. Take advantage of our active specials where you can save money on a great fire pit! We take pride in our ability to give you more natural options that are easy to transport and set up. Longevity is something we stress here and you will enjoy this Elementi fire pit for many years with satisfaction!